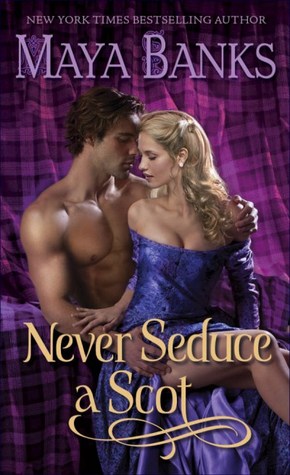 Eveline Armstrong is fiercely loved and protected by her powerful clan, but outsiders consider her "touched." Beautiful, fey, with a level, intent gaze, she doesn't speak. No one, not even her family, knows that she cannot hear. Content with her life of seclusion, Eveline has taught herself to read lips and allows the outside world to view her as daft. But when an arranged marriage into a rival clan makes Graeme Montgomery her husband, Eveline accepts her duty—unprepared for the delights to come. Graeme is a rugged warrior with a voice so deep and powerful that his new bride can hear it, and hands and kisses so tender and skilled that he stirs her deepest passions.
Graeme is intrigued by the mysterious Eveline, whose silent lips are ripe with temptation and whose bright, intelligent eyes can see into his soul. As intimacy deepens, he learns her secret. But when clan rivalries and dark deeds threaten the wife he has only begun to cherish, the Scottish warrior will move heaven and earth to save the woman who has awakened his heart to the beautiful song of a rare and magical love.
Rating

:
C
So. Goddamn. Cheesy.
And yeah, I know what you're thinking, "Um…Navessa? Did you SEE that cover?". I did. It didn't stop me from picking this up. Because apparently men in kilts are a weakness of mine.
I was tempted to leave the rating for this blank, because uuuuuuuugh. It's me, isn't it? I mean, come on, what's not to love here? Deaf heroine, non-rapey male lead, semi-well-researched historical setting.
DID I MENTION THAT THERE ARE MEN IN KILTS IN THIS BOOK?!
Dat cheese tho…
And to be honest, I wasn't a fan of how females were portrayed, especially in the first 50%. This is a tale of star-crossed lovers, where the king orders a marriage between two rival clans. The female lead is forced to leave her home and family to marry the enemy. She arrives there, and the men treat her fine, while ALL the women in the clan save one (her new sister in law) are fucking horrible to her. I mean really, really terrible. ALL. OF. THEM.
Then, boom, they have a change of heart. It happened so swiftly that it was literally un-believable. Yet the female lead immediately forgives them. Because she's some sort of fucking saint. I did not. Because I am not some sort of fucking saint. I wanted to see them suffer. Alas, they did not.