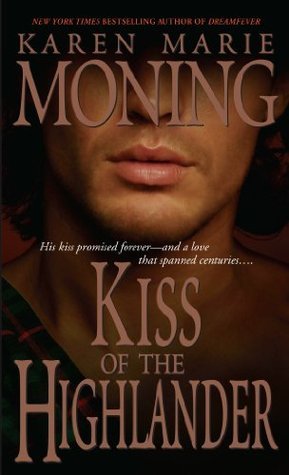 A laird trapped between centuries…
Enchanted by a powerful spell, Highland laird Drustan MacKeltar slumbered for nearly five centuries hidden deep in a cave, until an unlikely savior awakened him. The enticing lass who dressed and spoke like no woman he'd ever known was from his distant future, where crumbled ruins were all that remained of his vanished world. Drustan knew he had to return to his own century if he was to save his people from a terrible fate. And he needed the bewitching woman by his side….
A woman changed forever in his arms…
Gwen Cassidy had come to Scotland to shake up her humdrum life and, just maybe, meet a man. How could she have known that a tumble down a Highland ravine would send her plunging into an underground cavern — to land atop the most devastatingly seductive man she'd ever seen? Or that once he'd kissed her, he wouldn't let her go?
Bound to Drustan by a passion stronger than time, Gwen is swept back to sixteenth-century Scotland, where a treacherous enemy plots against them … and where a warrior with the power to change history will defy time itself for the woman he loves….
Rating

:
D-
*DRAMATIZATION*
"Hi everybody!"
*waves emphatically*
"My name is Gwen, and I'm a PHYSICIST! Isn't that so cool? Aren't you, like, blown away by my intellect? You should be! I'm the hottest thing to hit science since Newton. Hey, speaking of Newton, did you know that he invented gravity?
"Anyway, I'm on vacation in Scotland, because I'm a 25 year old virgin, looking to give away this precious gift from God to my One True Soul Mate. And I'm not just any virgin either, but a MEGA VIRGIN. I've never even been attracted to a man before, because I'm a good little girl and do exactly what the patriarchy tells me.
"You should too, because science!
"Well, I've decided that now is the time I find that huge hunk-o-man I've been promised, so we can fall in love within 48 hours of meeting each other, get married and have lots of babies! I even bought a pair of red undies with kittens on them, special.
"BECAUSE SCIENCE!"
*in saunters male lead*
"I doona know this science you speak of, lass."
*several moments pass, during which Gwen looks confused*
"OH MY GOD, ARE YOU A PIRATE?"
"What? Nay, a Highlander."
"Like from the Outlander novels?"
"Exactly."
"OH MY GOD, DOES THAT MEAN YOU'RE SCOTTISH?"
"Och, Christ, you're dumb. Aye, I'm a Scot."
"I'm not dumb, I'm a physicist!"
"And I have control issues and secretly hate all women."
"What was that?"
"Nothing that will keep you from climbing me like a tree when the time comes."
"Oh. Hey, did you know that Newton invented gravity?"
"What's gravity?"
"It's an invisible force generated by humans. Its effect is so strong on planetary bodies, that we've pulled the earth to us. It's why we can walk around on its surface without floating off into space, silly!"
*several minutes pass, during which Drustan looks confused*
"Yer a daft wench, aren't ye? Poor fool. Well, ye've a fine, shapely rump, and a pair o' breasts I could bury my face in. So I suppose you'll do."
"For what?"
"For the tupping."
"OH! IS THAT LIKE SEX?"
"Lass, why are ye still talking? Canna ye feel the fierce mating heat building between us?"
*several moments pass, during which Gwen looks confused*
"Wanna see my red kitten thong?"
"Nay, not yet. First I'm going to try to bully you into doing what I say, and when that fails, I'm going to physically assault you several times."
"OH MY GOD, YOU'RE SO HOT. DO YOU WANT TO TIME TRAVEL BACK TO 16TH CENTURY SCOTLAND SO I CAN STOP PRETENDING TO CARE ABOUT A CARREER AND INSTEAD GET MARRIED AND HAVE LOTS OF BABIES?"
"Aye. What else is the point of this novel?"