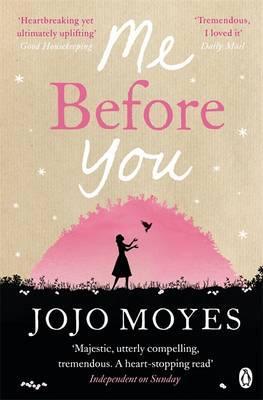 Lou Clark knows lots of things. She knows how many footsteps there are between the bus stop and home. She knows she likes working in The Buttered Bun tea shop and she knows she might not love her boyfriend Patrick.
What Lou doesn't know is she's about to lose her job or that knowing what's coming is what keeps her sane.
Will Traynor knows his motorcycle accident took away his desire to live. He knows everything feels very small and rather joyless now and he knows exactly how he's going to put a stop to that.
What Will doesn't know is that Lou is about to burst into his world in a riot of colour. And neither of them knows they're going to change the other for all time. 
Rating

:
D
*WARNING: UNPOPULAR OPINION TIME*
People seem to love opening their reviews of this book with gifs of ugly crying. I see your ugly crying and I raise you some rage:
Many others have said this and I fully agree; this is not a love story.
This is a story that revolves around an immature, self-centered, vacuous woman named Louisa. She has no desire to do anything in life or better herself in any way, she's perfectly content to work whatever job she can find, allow herself to be stuck in a loveless relationship and forever remain a selfish child. For God's sake the 'woman' is 26 and still has the type of immature fights over clothing with her sister that you'd expect from a pre-teen.
She also has zero skills related to the care of the disabled and yet somehow gets hired to be the caretaker for a quadriplegic so clearly, she isn't the only idiot in this book.
The man she's been hired to look after, Will, used to lead an incredible life. He was wealthy, successful, adventurous, athletic, passionate and intelligent. Basically the complete opposite of our MC. He was injured in a freak accident and is now relegated to a wheelchair and his spinal injury is high enough that he barely has the use of his hands.
You'd think his story alone would slap some sense into Louisa.
WRONG
Wanna know what changes her? Huh? Do ya???
A MAN
This is where someone will likely want to argue with me. They'll want to tell me that's not how it was because they've convinced themselves that there's another reason. Well, there isn't. She doesn't change her mind because she realizes that any day could be her last. She doesn't change her mind because she realizes that she's let her past dictate her present. She doesn't change her mind because she realizes that she hasn't really been living at all.
She changes her mind because Will all but forces her to step outside of her comfort zone. He tells her that she's intelligent *snort* and that she should pursue fashion because she likes to dress eccentrically.
Yup, that's why she does it. Because he said so. Because his opinion of her means everything. So, for those of you who would like to argue about this, this is what I'll have to say to you:
I had a lot of other issues with her but they'd all be spoilers and would likely fuel a full-fledged f-bomb laden rant from me so I'll keep them to myself.
One thing that struck me as singularly strange about this book was that towards the end of it the first person perspective shifted from our MC to other characters. I have no idea why. It didn't make me like characters I already hated and it didn't further the story in any way.
That said, the moral of this book is a good one and the writing wasn't bad, if a little inconsistent on the details at the end while trying to make the events fit together. Those are the only things that kept this from being a one star review. In the end, the main character absolutely ruined this for me. I disliked her so much that I didn't even read the epilogue because I couldn't give two shits what she ended up doing with her life.
Oh, and one last thing. Will? I liked you at first and I cannot imagine what I would do in your situation but I feel like everyone around you was too nice to say this so I will: Fuck you, you hypocritical, self-centered, narrow minded prick.